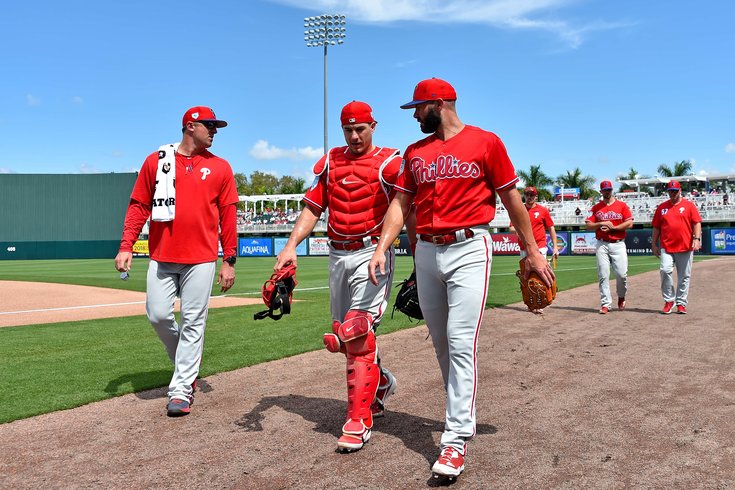 Less than four weeks til pitchers and catchers report to Spring Training and in celebration of the Phillies signing the best catcher in all of baseball to a five year contract . . . a story from a few summers ago.
I was winding down after an emotional memorial service for a dear brother and friend, Kent Hubbard, just 60 days after we laid to rest his beloved wife. What a special man made extraordinary by the grace of Christ. He is greatly missed. As I decompressed after the memorial service, I ran across this extraordinary baseball story. I never posted it. So now I am trying to finish it and typing with tears in my eyes but looking forward to the day when I will see him again at the feet of Jesus. It may take be a couple of eons to find him, he and Thelma will be up so close to Jesus, but we will meet again.
Anyway, before I left the church building to go home on the day of the memorial service, I decided to look up some info on my beloved Phillies and ran across this article on ESPN and a legendary performance by the great Juan Marichal (San Francisco Giants). The excerpt below is from David Schoenfield's article on the greatest pitching performances by franchise in MLB. (Mike and Sarah Stacy will love this.)
Anyway, enjoy this respite of an amazing performance.
Pitching line: 16 IP, 8 H, 0 R, 4 BB, 10 SO (Game Score: 112)

This was one of the more famous pitching duels of all time, as Marichal, 25 years old and on his way to a 25-win season, and 42-year-old Warren Spahn both went the distance before Willie Mays finally won it with a home run in the bottom of the 16th. Giants manager Alvin Dark was going to hit for Marichal in the 13th, but Marichal barked that he wasn't coming out if his 42-year-old opponent was still in the game. SABR research indicates Marichal threw 227 pitches in the game. Since Marichal's 16-inning performance, only one other pitcher has gone that deep: Gaylord Perry, another Giants starter, who did it in throwing a shutout in 1967 (also recording a Game Score of 112).

Oh, Marichal also made his next scheduled start on four days of rest — then made his next two starts after that on three days of rest. He'd pitch 68 innings that month.    [!!!!!]

For argument's sake: Matt Cain's 14-strikeout perfect game in 2012 registers an impressive 101, but it came against a putrid Astros team that would lose 107 games. Another option would be Carl Hubbell's 18-inning shutout in 1933 with 12 strikeouts — also on July 2 — for a 132.

Most likely to beat it:Madison Bumgarner has had two 98s in his career with one-hit shutouts.

Notable: The Baseball-Reference Play Index goes back to 1908, and it's not surprising that the two pitchers with the most games of 10-plus innings are two deadball hurlers: Pete Alexander (57) and Walter Johnson (55). Third on the list with 37 such games is Perry. The only other post-World War II starters with at least 20 such games are Spahn (23), Robin Roberts (23) and Jim Palmer (20).
WOW!!